As the cord-cutting trend accelerates, the competitive battleground changes shape significantly. New developments and new players entering the market aim to put live TV broadcasting on another level.
Cordcutting accelerates, broadcast gains
These days, there were some quite interesting developments and reports regarding the cord-cutting trend and the future of broadcast.
Fresh estimates from MoffettNathanson show that the old-school pay-TV platforms lost 319,000 subscribers in the U.S.
"With the results now in from all of the largest operators, it is clear that cord-cutting of legacy distribution services—that is, without including OTT-delivered virtual MVPD bundles like Sling TV and DirecTV Now (and soon, YouTube TV)—has at last meaningfully accelerated," Moffett said. "While there admittedly remain a few smaller operators left to report, the pay-TV business (as defined by traditional providers) ended 2016 shrinking at 1.7% per year, its fastest quarterly acceleration on record."
Last Monday's round of Nielsen cable network universe projections show that the median cable network lost 2.3 percent of its subscribers, a rate very slightly higher than the previous two months.
In the same time, when cable networks' penetration is going down, broadcast gets a slightly surprising boost. Brian Wieser from Pivotal Research Group enclosed that the broadcast universe grew about 1.7 percent compared to the previous year, coming from the free (antenna) broadcast.
And things look brighter for US live broadcast. The Federal Communications Commission (FCC) is pushing for a new broadcasting standard that would improve TV picture quality, allow better access to programs via mobile phones. The new standard, named ATSC 3.0, will bring much more accurate geo-locating of television signals, ultra-high definition picture quality, and more interactive programming.
Live OTT space gets more exciting
The major news that broke this week was the announcing of YouTube TV.
A couple of days ago Google announced its new $35-a-month TV service that will package a bundle of channels from the broadcast networks and some cable networks. With this move, they are directly targeting the cord-cutter, millennial generation and directly competing with OTT services like Sling TV and DirecTV Now. YouTube TV should be "mobile-first", serving subscribers that spend most of their time watching on phones, but also using laptops and Google's Chromecast devices plus traditional TV.
What does this mean for the Live OTT market?
With Google's involvement in the paid video market, the complete landscape is changing. The decision for entering this market from a brand with such magnitude signals that the market is still big and attractive. The competition for getting the millennials' share of love will become fierce, with imminent an shrinking of the prices. It is definitely another big blow for the traditional cable industry, but it's still far from being a nail in the coffin.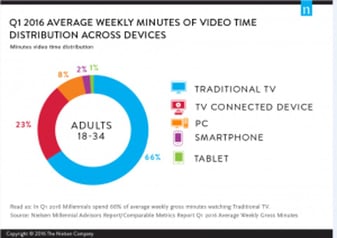 One reason for that is that YouTube TV is targeting the millennial generation only. And in fact, even a large portion of millennials are not pure cord-cutters.
According to Nielsen, TV-connected devices, such as game consoles and digital streaming platforms like Roku account for nearly four times the percentage of total video minutes than they do among adults 35 and older. Traditional TV stays as the main source of entertainment among "older" millennials, accounting for 66% of their viewing time (for 35y+, it goes up to 89%).
Also, the "mobile-first" positioning scares off cord-cutters a bit, by thinking that it suspiciously look like an excuse to not make specific apps for Roku, Fire TVs, Android TVs, etc.
YouTube TV has an impressive portfolio of channels, but there are a lot of mainstream channels missing in the offering like CNN, BBC America, Cartoon Network etc. Cord-cutters still seem to prefer an a-la-carte service where they choose their own channels.
These new OTT TV providers are not necessarily expanding the pie by attracting cord-cutters and cord-nevers.
It is inevitable that we'll continue to witness a cord-cutting acceleration thanks to these pure OTT services and it's sure that that's the direction the market is taking. Analysts estimate that Sling TV and DirecTV Now added 900,000 subs in 2016, taking the vMVPD total to more than 1.4 million, including estimates for PlayStation Vue. This will lead to a price war since cord-cutters are interested in savings.
---
To wrap things up, increased competition and more options are always good news for viewers. Live broadcasting will continue to be in the center of attention. More choices at lower price points (without hefty fees and surcharges) should ultimately pressure OTT and pay-TV providers to evolve and innovate. Obviously, the market is healthy and it's up to the video publishers to understand their challenges, target their market chunk and design reliable video services.
---
Check out how live OTT and sports unlock numerous opportunities for broadcasters: