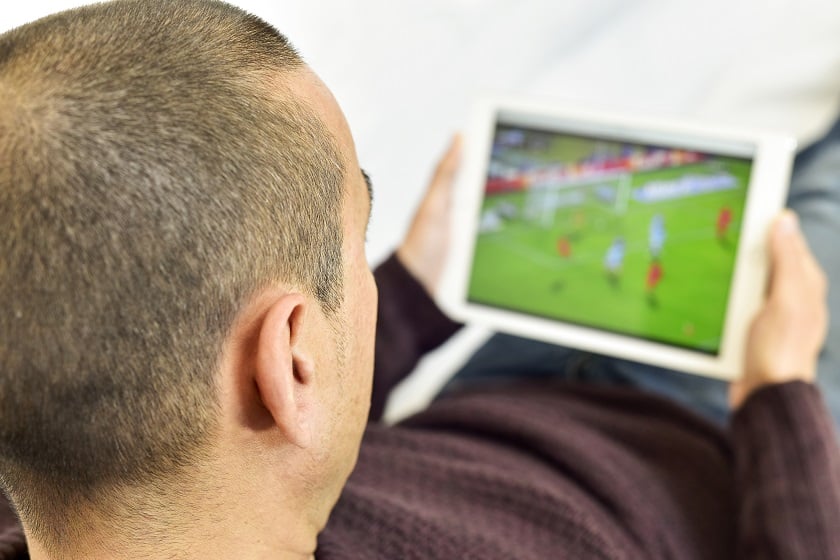 In this exciting age of cord-cutting video on demand, SVOD and live streaming, it's never been a better time to be involved in sports - both as a spectator, a player - and a broadcaster. From the supply side point of view, live OTT has been the hot topic in recent years as they look for ways how to reach their audiences and grow revenues.
Sports rights are getting pricey
Live sports streaming is bigger and better than ever, and it has produced an insane level of money making opportunities for sports leagues and video providers alike.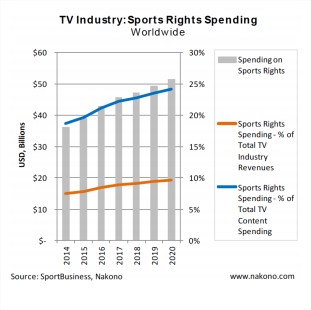 As one prime example, let's look at the NBA. Did you know? Since a lucrative new TV deal propelled by the rise of live sports streaming, the NBA salary cap increased 36%, to a whopping 94 million. That's huge.
The graph on the right (provided by SportBusiness and Nakano), shows the growth curve of the money that are been spent on sports rights and their projection until 2020.
The reason for this recent and sudden shift comes down to the fact that in this fast and flexible modern age, few traditional TV offerings still command an appointment-watching fanbase like a sports event.
Due to the skyrocketing value of TV rights, sports mergers and acquisitions have started to occur. For example: recently, talent agency WME-IMG led a $4 billion acquisition of Ultimate Fighting Championships, tying up the rights to one of the biggest slices of sports entertainment on the planet.
Is Live OTT the business direction to go?
The rise of live OTT has grown to such a point that even non-traditional web media platforms are muscling their way into the space and buying up rights for delivery of highly rated events - this shows the seemingly infinite scope of revenue opportunities that OTT provides.
In fact, according to a survey made by Level3, 88% of experts recently surveyed agree that offering OTT services is a viable revenue opportunity.
Another striking thing about OTT and live sports is just how many different businesses, broadcasters and organisations are investing in its future. Big telecoms (Vodafone and Telecom Portugal examples) are entering the game, with serious shifts, restructurings and acquisitions.
Challenges are well known
But, although live sports and OTT is looking forward to a healthy and prosperous future, much like anything in this world, it does come with its challenges - namely cable. Based on a recent report from Exstreamist, a large volume of men still keep their cable subscription to watch live sports and do so because they find watching their favourite teams on cable far easier than streaming online.
Perhaps the reason for this is down to OTT outages. People want to watch their favourite sporting event hassle free and to maintain loyalty; OTT providers must provide mainstream-quality levels of service or risk losing faith, and subsequently, custom. Not long ago, HBO suffered streaming and quality issues during the big finale of Game of Thrones, and it did nothing for their reputation - but sadly, sometimes these problems can't be avoided.
It's plain to see just how much scope there is for OTT and live sports and within the next few years, it wouldn't be out of this world to think that will be a wholly dominate force by 2020.
But, to really ensure success, video providers need to invest in improving the streaming experience and the rest will surely follow.
---
Are you interested in broadcasting sports over-the-top? Learn how you can set up a event live stream, free or paid: