While the traditional broadcast companies and the cable networks struggle to deliver a seamless 'TV Everywhere' experience, a big slice of the VOD market is still up for grabs. The current dynamics are opening up new opportunities to the smaller, and thus more flexible, broadcasters who want to sell video subscriptions.
Today you can set up your own thriving, Netflix-like channel and become an important player in the OTT environment. Aren't you ready to bypass traditional media gatekeepers and strike out on your own?
How does the SVOD industry shape up currently?
A Pyramid Research report expects paid OTT revenue in emerging markets will triple in size from US$1.9 billion in 2014 to US$6.0 billion in 2019. SVOD services are expected to grow to 6.4% by the end of 2019, thereby increasing the user base from 19.4 million to 102.7 million. Pay-TV premiums are losing ground to SVOD sites like Netflix, Hulu Plus and Amazon.
Who can benefit from video subscriptions model?
Sports broadcasters who want to sell over the internet the mainstream or niche sports games;
Filmmakers, including indie creators;
Celebrities;
Anyone who wants to set up a topic channel for bringing together spiritual communities (churches) or educate (business leaders, universities, health gurus, etc.).
How do you develop a sustainable business model, that is firmly anchored in the multichannel environment?
There are three fundamental prerequisites you need to fulfill to seize the opportunity and position your SVOD channel successfully:
Here are the best practices from our SVOD publishers
that we'd like to share with you!
1. How much should you charge?
This depends on two elements - the average price for a similar content in your industry and how much your customers are willing to pay. If you're just starting out, we suggest that you develop and initiate a few different approaches to see what will be a hit with your customers:
Give them a choice but keep it simple: It's far better to offer a wider choice instead of trying to pinpoint one price for your target audience. Offer day passes, monthly subscriptions and yearly subscriptions as packages that can deliver clear benefits for your subscribers. Look closely at your reporting and blueprint the range of options that your consumers actually want. This will help you to refine your focus, while, at the same time, increasing your revenue and client retention.
Let them try it out: Expecting less upfront commitment by offering a trial period is a great way for your customers to get to know your offer more intimately before they commit for good. Give them a free month (or three!) before you charge them the full price. How do you go about it? You simply create a coupon code for 100% free access and send it to your customers. Once they enter the coupon code in the checkout, we'll then ask them to leave their payment info. After the free period is over, they'll be charged the full price for access to your subscription.
Create a sense of urge: Offer seasonal or time-limited discounts and support this with a succinct message that clearly states what your clients will lose if they don't buy it now! From a psychological standpoint, research shows that people would rather choose not to lose something over gaining the same thing.
Bundle: Sell a few special videos at the same price as a single video, adding a pass option. People love getting more at the same price.
Support multiple currencies and payment options: Enabling customers to pay with local payment alternatives helps to maximize your global conversion rates. Remember to remain reliable in terms of security and user experience during the checkout process. If you go for Cleeng to support you

, we'll guarantee your subscribers a seamless purchase within a click for access in 170 countries! If you decide to geo-block your SVOD offers, run a simple research on the local price points and compare with what your local competitors are doing.

It's not just about the currency exchange

.

Think also about the conversion points specific to the countries where you sell.
Make it comparable: Don't be afraid to mention how your SVOD is better than the SVOD of your competitors. Do you offer a better deal? Then say it! Your customers see dozens of offers a day, so give them an easy way to compare these offers. Also, show how your different plans compare to each other. Highlighting the differences helps people understand that everyone can find something affordable for themselves. It's also a great way to direct your customers toward the plan you want them to choose.
Upcoming sales - learn from retail: A well-known tactic that many retailers use on their sites is 'end-of-the-month' sales. You probably use some type of newsletter, so go ahead and remind your customers that the big sale will be coming very shortly to create eager anticipation among your customers.
What are the typical price ranges we see for different types of video subscription?
Sports games: $20-$35/mo.
Indie movies: $5-$10/mo.
Celebrities: $10-$25/ mo.
Educational content recordings: $30-$50/mo.
Spiritual leaders: $8-$15 /mo.
2. Make it sharp & credible!
Prepare your SOVD channel well. We give you all the tools to help you personalize your SVOD offers.
Squeeze the most out of your trailer and preview: Make separate videos that will advertise your content in the most dynamic and exciting way. Need some pro tips? Check out this article>>
Think like a copywriter: If you stir curiosity or event controversy you have better chance to sell more. Focus on the outcome and bottom line for the customer, not on your service. What do they get if they purchase your content? Position your offerings not only as an aid to their needs, but also as the missing part of their lives.
Establish authority and a sense of security: Upload your logo to every VOD. Use your own client's logos or mentions in relevant magazines, or even their websites on your own SVOD website. Create social proof on your landing pages by adding customer reviews. Allow your customers to see that others like themselves are enjoying and approving your service.
Optimize: If you're adding subscriptions to an existing (and textually rich) website, make sure to make the 'subscribe' option/section visible, easy to find and easily navigable. Test the page loading time and make sure the website is mobile-friendly. Add FAQs and support contacts. (Go for Cleeng SVOD and we'll provide you with a list of the top ten FAQs and also fast-and-friendly support for your viewers). Launch a newsletter update to nurture quality sales via email.
3. Release early, update frequently
Before your event, start promoting it. An early release lets you tweak the appearance and adjust some of the visual elements. Think lean. Let people test it. Play around with it and gather feedback! Is the description clear and gripping? Can they play the trailer? What feelings do they get when reading all of the descriptions? Then apply everything you've learned and release.
Don't forget to keep it fresh: This is a journey, so think of your further development. Blueprint your SVOD channel's main categories. Plan the extras and try surprising your audience with something new on a regular basis. Need a PRO tip? Depending on the content you have, you can try offering to your SVOD a complimentary LIVE PPV!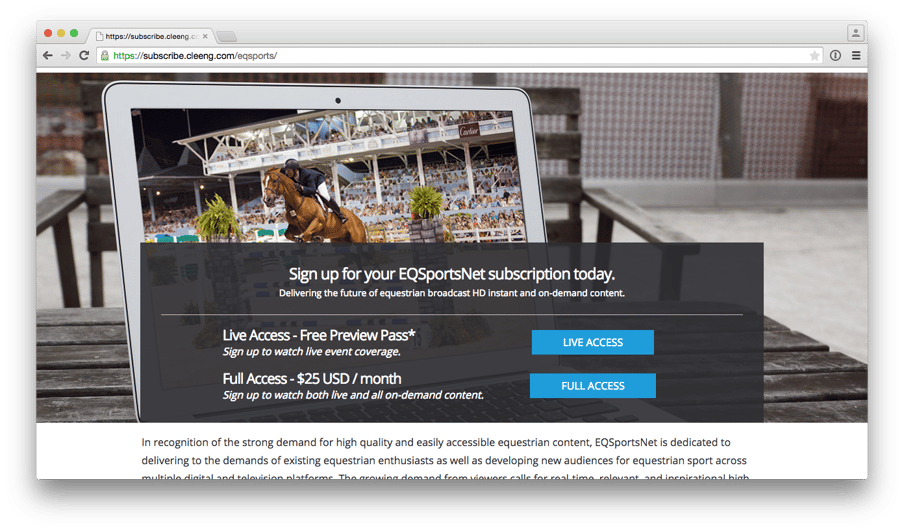 4. It's all about reducing the churn
The right audience: Start by attracting people who specifically look for the value you provide.
Onboard like a 100% human: Automations and trigger-based email marketing are great and you shouldn't quit them, but think of a more personal way of onboarding your subscribers. How about a personal call to your top ten subscribers to thank them and talk with them about their experience?
Nurture the early adopters and reward their sharing activity. Organize social media giveaways, offer behind-the-scene extras and offline events.
Stay on the top of their minds: Let them know about new releases and promotions on a regular base. Never stagnate.
Learn from the feedback: Run regular surveys and one-on-ones to learn how your customers receive your content, what they're missing and what they'd like to see improve. Then adapt to this feedback.
Support in a timely manner: If there's a problem, there needs to be fast and effective support to your customers. If you're not sure how to do it, sign up with Cleeng and we'll provide star support to your customers.
Deliver on your competitive advantage: Be it your unique content, your community, the timely customer support or the fast and seamless checkout you provide (like the one Cleeng gives your customers), this is your unique advantage that they cannot get elsewhere. Give your customers reasons to keep coming back.