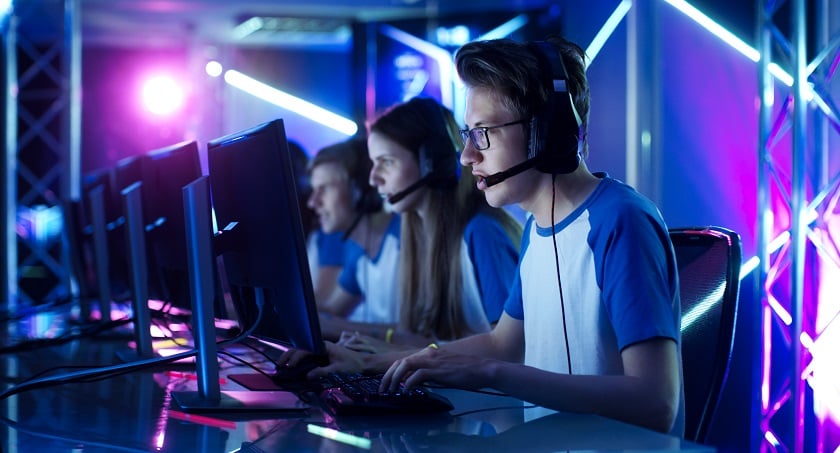 When we think of the Super Bowl or the World Cup Final, it often conjures images of thousands of people crammed into a stadium, cheering and chanting in unison for their favourite team to help them claim ultimate glory. Now, imagine millions of people watching the same event from the comfort of their own homes, huddled together on the couch, screaming at the television at the same time as those in the stadium (pretty noisy stuff). But, when it comes to eSports, the story is a bit different.
How fast do eSports grow?
The point is, eSports has taken the very best elements of sporting events (in terms of both spectating and participation) to offer gamers and sports fans a whole new dimension of entertainment, while taping into a new and lucrative market.
eSports is on the rise, with new leagues and tournaments popping up each and every day. For instance, eSports gaming convention Blizz Con packed out the Anaheim Convention Centre last year, with a triumphant turnout of gamers and spectators alike.
Once again, imagine thousands of folks crammed into the Anaheim Convention Centre to get their fix of sports gaming action - and then picture millions more people watching them from a live stream. This is online video industry's latest initiative – and it works.
To put things into perspective, Game five of the 2015 World Series averaged 17.5 million viewers and Game six of the 2015 NBA Finals had 23.3 million viewers (the biggest ever). Now, believe it or not, 36 million unique viewers tuned into enjoy the League of Legends 2015 World Championship Finals held in Europe - a mind blowing number in anyone's book. It's safe to say, when it comes to eSports events streaming, the potential is there (to say the least).
One provider who currently leads the pack in terms of eSports innovation is live streaming platform Twitch. Not only does the tech company monopolise large sectors of the eSports market, they are also planning to make live-streaming part of every game's design process, rather than being an afterthought. If successful, this could mean huge things for the industry, as gamers will be able to improve their own techniques by watching others from a live stream – and that's just a small piece of the pie.
The chart below shows a staggering percentage of gamers watching Twitch live streams:
Why eSports are good for niche broadcasters?
It's plain to see that the weird and wonderful world of eSports has created a colossal market for those in the online video industry – and for niche broadcasters, the rewards could be endless.
The reason for this is largely down to the scope and speciality of the content it's possible to offer a keen target market. In a nutshell, here is why eSports can serve to benefit niche broadcasters:
There is access to a small, fragmented audience

There are new channels in which to make money, such as donations and affiliate revenue

There is lots of live content available and it's easy to stream

There are a multitude of different experiences linked to the same piece of content
Just to clarify the last point: one live video gaming session could be broadcast with three different types of commentary; therefore, offering a variety of different angles in which to promote the same content to different kinds of gaming fans; some like funny commentary, while others might prefer an in-depth analysis, and so on…
The potential for eSports seems limitless and we expect it to soar to dizzying heights within the next year, which for online video providers means big business and exciting new ventures.
Watch this space.
Need a reliable video e-commerce platform for selling live and on-demand video? Try out Cleeng: