As traditional TV continues to shrink, it's plain to see that content providers should focus on offering online video directly to their consumers, dispensing the traditional distributing channel altogether.
Viewers opt for OTT and online video, with US leading the way
We've mentioned before that this year is expected to see a huge increase in the amount of people migrating towards a direct-to-consumer set-up when it comes to enjoying their home entertainment; it seems that people are fed up with rigid programming, awful repeats and a poor user experience. An increasing number of people are wising up to a new trend in content consumption and turning to OTT and SVoD services, digital and mobile apps and live events streaming , as opposed to the tired old cable bundles of yesteryear.
According to a recent study by PwC, 78% of U.S. consumers already subscribe to at least one OTT service - and although currently, most of those subscriptions complement an existing pay TV relationship, there is real potential for complete disruption.
In addition to this, today, fewer than one in seven U.S. pay TV households actively use TVE, PwC said in their report.
Parks Associates came out with a report saying that US viewers spend over $6 per month on OTT video. The average monthly spending on internet-based OTT services has grown from $3.71 per month in 2012 to $6.19 per month in 2015, while the typical price point for those services ranging from $7-$10. The graph bellow shows how US households spend their money on video content. Video rentals and subscriptions are unsurprisingly increasing, and revenue models like transactional VOD (TVOD) and PPV look more and more attractive to publishers.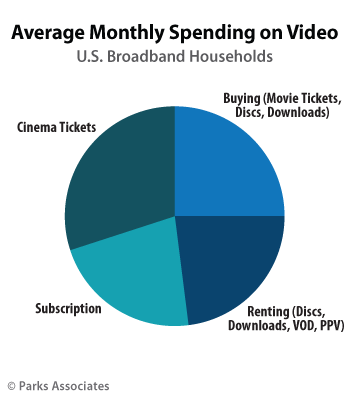 "The subscription model clearly dominates in the US, which could create a disconnect in value propositions between consumers and content providers, who might seek out revenues from more lucrative transactional services over low-margin SVOD services," according to Glenn Hower, research analyst at Parks Associates.
Costs structure signals behavioral change
This is pretty hard hitting stuff and to really drive things home, this graph shows rapidly dwindling TV broadcast ratings in relation to increasing broadcast transmission fees over a 10 year period:
Broadcast TV ratings are collapsing ....@RichBTIG pic.twitter.com/Q4euIwJOwr

— Ted Hearn (@TedatACA) January 18, 2016
Basically, this chart is a vision of unsustainability. And one of the big problems (or nails in the coffin) is due to major cable broadcasting issues. These problems often come in the form of a re-trans blackout, in which a gaping hole is left in a viewing schedule because broadcasters and cable operators can't behave like adults and agree on suitable rates, among other things.
Perhaps for the tech savvy younger generations, a migration is simple (and inevitable), but older viewers who are bewildered by OTT services or internet video are being punished by losing access to the content they are paying for.
The solution to this problem is simple: cut out the middleman and offer top notch programming direct to the consumer, rather than negotiating or compromising on flexibility or quality.
Time, tide and technology wait for no man, so if traditional Pay TV formats - or any other content providers for that matter – want to survive this year and beyond, they will have to put their thinking caps on and get with the programme.
Set up your OTT service with Cleeng now: