The price of good, quality video content is inflated. In this conditions, a broadcaster must now, more than ever, focus on ROI to ensure success, and profit.
In a world where digital reigns supreme, live streaming, OTT and SVOD services are developing and expanding more than ever before. As a result, of this, the cost of content is on the rise.

Did you know? Last year, Americans collectively spent 31 billion hours watching sports on TV — that's 40% up from a decade ago.
How much do viewers pay for TV content per hour?
In a fascinating study from Ampere Analysis showing the revenue generated per hour of TV viewing per country between 2012 and 2015, it's plain to see that Denmark is in the lead, with Spain and Italy being the lowest.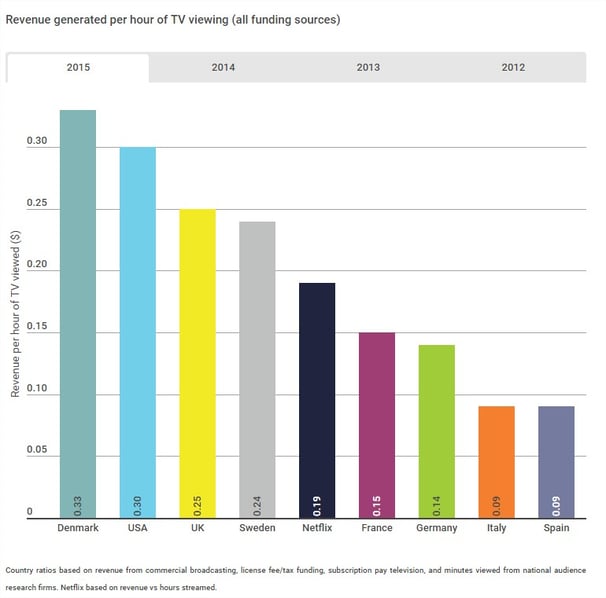 The UK has shown a steady growth in the value of TV viewing per hour, rising from $0.21 to $0.25 between 2012 and 2015, and Denmark's value per hour rose from $0.29 to $0.33 over the same period. What's particularly interesting is the fact that the value of Netflix per hour dropped in 2014 and again in 2015, now coming in at a revenue rate of $0.20 per hour. For a clearer insight of the figures, refer to the 2015 chart below:
Sports subscription bills gets hefty
Speaking to the LA Times, Adam Ware, head of digital media at Tennis Channel said, "live sports is the most valuable content on the planet." Essentially, sports have become the backbone of the pay-TV bundle and as its strength grows, so do the broadcasting costs. In turn, this is driving up the cost of cable bills.
On the right, you can see how much sports networks contribute, on average, to the rising cost of pay-TV subscriptions (data by SNL Kagan).
In addition to this, the general cost of pay-TV is set to rise once more. Specifically, AT&T's DirecTV is preparing to impose a new round of rate increases of between $2 to $6 from January 2017, blaming these price hikes on the higher cost of programming.
Final thoughts
With the costs of broadcasting content slipping out of control, a broadcaster must now focus on ROI to ensure success, profit, and ultimately, longevity.
It's clear to see that there is revenue to be made in relation to TV viewership, the key is to harness revenue potential and gain maximum ROI from your broadcasting efforts to ensure success in 2017 and beyond. The costs of content may be rising, but for savvy broadcasters, so is the potential to make a profit.
---
Find out how you can sell direct-to-consumer and what makes a great OTT service: