As of January this year, Netflix had just short of 100 million paying users. Its model keeps serving as a great example for ambitious video publishers and broadcasters on how a successful streaming service should look like.
TV viewers are already getting used to the new ways of consuming video. Subscription VOD is growing in popularity worldwide and people don't mind jumping into a "relationship" with their premium video supplier, as the newest survey from GlobalWebIndex show (see chart bellow).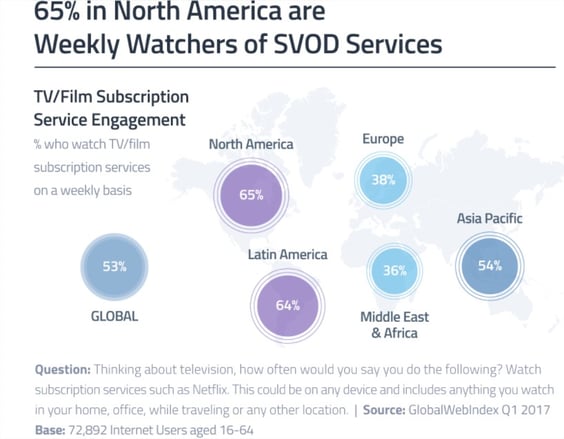 There aren't many TV viewers in the world that haven't at least heard of Netflix, after all, with bundles of original content coupled with a host of classic films, documentaries, and box sets, it's a very popular option. In fact, Netflix built its reputation on offering top quality content, a superior user experience, and value for money.
By providing a seamless subscription service and investing in its content library while enhancing its UX, Netflix now dominates the entertainment SVOD market the almost world over. In one of our previous posts, we discussed the possibilities of creating a subscription VOD service like Netflix.
With the success of Netflix undeniable and the overall demand for video subscriptions growing, who's to say the same model won't work for other verticals or niche markets?
Replicating Netflix model in sports broadcasting?
Let's check on the sports vertical.
In fact, according to the GM of Microsoft's sports business, big football clubs could increase fan revenues by a whopping 56-times by replicating Netflix's subscription content model.
Football alone has an incredible global fan base with no end of potential when it comes to sourcing top quality content, and it shows no signs of slowing down. Many clubs have already jumped on the Netflix-like bandwagon, but to truly succeed, their content needs to be the main focus.
How about SVOD gaming?
Due to the colossal success of Netflix's flat fee subscription model, other niche markets are taking note too, namely the gaming industry.
Realizing the mass potential in a Netflix-style service, the likes of Microsoft and Nintendo are launching their own subscription platforms.
Microsoft is giving gamers access to an ever-expanding library of Xbox 360 and Xbox One games through Game Pass, for $10 a month. Taking a slightly different approach, for $20 per month, Nintendo is offering players the chance to tap into a host of retro classics including Super Mario and Balloon Fight, among others.
Learn from the best, and take over your market
Success and potential aside, it is pretty difficult to follow the steps of a market front-runner. In a bid to produce bigger and better levels of original content, Netflix has made a series of massive investments. Besides heavily investing in original content, the company introduces plenty of new product features like the interactive TV as most recent one.
That strategy carries risks as well. Apparently, ROI is dwindling due to slowing levels of subscribership and its content obligations not stacking up against its revenue.
The one-fit-all approach that has global domination as a vision is hardly achievable due to local market specifics, language barriers, and technology acceptance. Competition from other providers is stunting Netflix's viewer growth, which means that the market is still open for new players. Publishers that have established and engaged audience have great potential to learn from the best and build services that will be profitable.
This may be the case, but it's fair to say the Netflix has paved the way in the world of SVOD and OTT. There is still an enormous amount of value in the content-centric, subscription-based SVOD service, especially for niche providers - all you have to do is find your USPs while getting the balance right.
---
Discover how the SVOD model can help you build sustainable revenue stream: