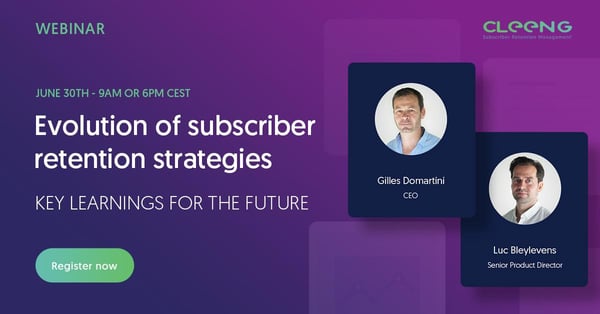 Consequently to the occurrence of unprecedented times, we decided to host a series of webinars aimed at providing support to local or global broadcasters, telcos, and media brands. Our webinars addressed how to quickly set up or upgrade a video platform during a crisis.
On June 30th, our CEO and Senior Product Director will host a webinar to share some of the major key learnings gathered during the COVID-19 crisis. Gilles Domartini and Luc Bleylevens will discuss what moves the needle for media brands and the ways these companies accelerate their subscription business these days.
The agenda for the day includes:
1) five main strategies to fight churn
2) practical examples of how to apply these learnings
3) successful stories from our clients
For your convenience, we are offering two time slots: June 30th at 9:00 and 18:00 CEST.
---
Register now for your preferred time slot: