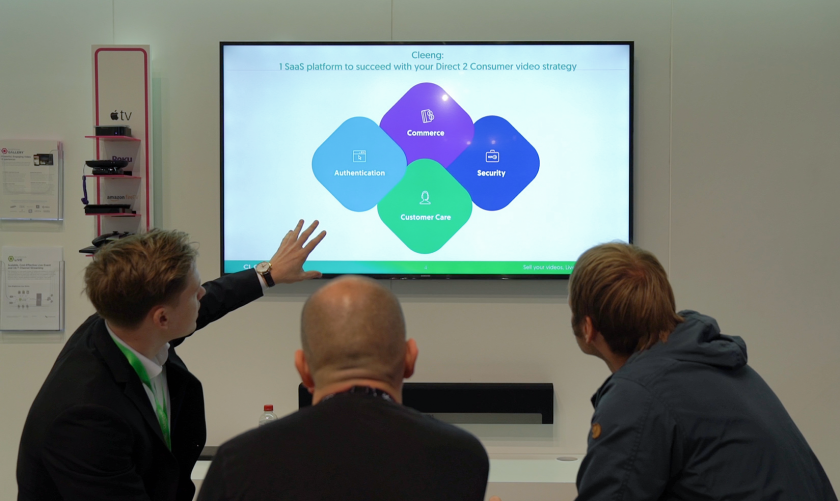 This year's IBC exceeded our expectations. We were at the event sharing our insights on direct-to-consumer video solutions, as well as our new DRISC technology and churn predictability feature. Read more on our key learnings from it.
It's safe to say, the event was a huge success and while we were in attendance, we learned made a few key discoveries. Here's what they are…
1. Live video security is not to be underestimated
Only hours into this year's IBC, it became clear that there was a great deal of focus on video security. The mass interest in this topic emerged together with the increased revenue opportunities that recent PPV events (like the Money fight, Horn-Pacquiao, GGG-Canelo) have presented, as well notable security breaches that have been associated with these events. Maintaining revenue protecting it from security issues is fast becoming a challenging topic, and it must cover all bases including mobile and social media.
To put it into perspective, here are a couple of stats you should be aware of...
Irdeto uncovered 239 illegal live broadcasts of the Mcgregor vs Mayweather fight, with almost 3 million viewers worldwide watching the major event illegally. 69% did so through social media channels like YouTube Live, Periscope, Facebook Live, and Twitch. Only one illegal stream (made from Louisville, Kentucky) reached 986,000 users – translating to almost 100 million USD in lost revenue for the broadcaster. That's a big deal.
To tackle this, a broadcaster has to be well equipped with a full set of diverse video security tools. The mainstream solutions may not be enough to cope with the piracy coming from multiple sources and devices. We are proud that our clients proved great flexibility and stamina in facing these type of challenges.
2. The online TV world craves for agility
From our time at this year's IBC, we found that to ensure ongoing success and development in the realms of OTT, it's essential to diversify your offerings to grab market attention and attract fresh viewers.
Essentially, there is no single path to OTT monetization success and to cut through the noise in today's world, the ability to inspire, innovate and adapt no longer a luxury, it's a necessity. While the largest providers continue to dominate, smaller providers are struggling to find their audience. So, the glaring solution to this issue is to adopt and combine different business models, including pay-per-view, subscriptions, coupon programs to identity management, and more, all backed up with robust and reliable security.
This is particularly visible in the world of live sports, where the demand is fragmented and the content is under serious siege from piracy intruders. Being able to grab the market opportunity quickly and protect your content makes a broadcaster a winner.
3. The struggle to compete in the SVOD world is real
Last but certainly not least, this year's IBC opened our eyes to the harsh realities faced by today's SVOD providers as they fight to compete for the top spot...
In the world of SVOD, success is largely dependant on the ability to control churn and to release incredible content that sparks the interest of a niche audience. We have talked before about SVOD services switching and the difficulties accessioned with retaining viewers. Now more than ever, it's vital to set up top-flight analytics and intelligence to learn from your users, listen to their thoughts, wants, needs and desires and monitor satisfaction levels. At present, there's no data more valuable than that of your customers, and if you step into their shoes, the ideas and innovation will follow.
SVOD is a challenging industry but with passion, desire, drive, data, security and creativity, you stand to gain success beyond your wildest dreams.
Finally, enjoy this recap video made from our recordings at the event.