As the entertainment world continues to diversify, the consumer choice of viewing options broadens and technology evolves, providers across the board are experiencing a problem with churn - particularly in the world of pay TV.
---
Game of Thrones and subscriber churn
Churn is a big problem for all providers that work with the subscription model.
The Game of Thrones finale that happened on Monday morning, wrapping up the last season of the epic HBO hit show, triggered a lot of subscribers to the cable network to cancel their subscriptions.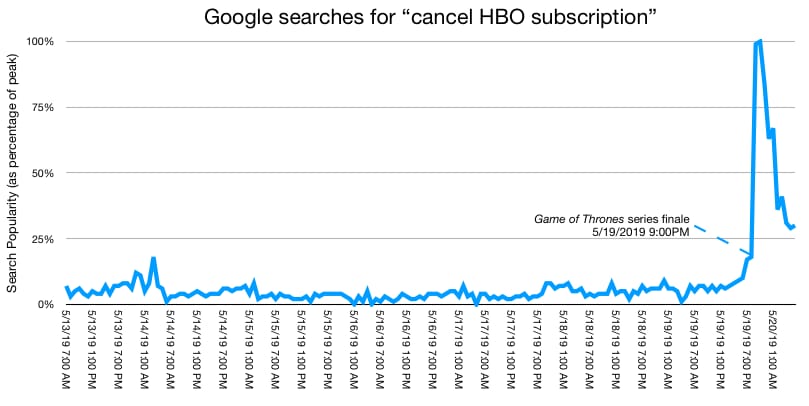 This reaction doesn't come to a big surprise, as the show's popularity seems hard to match in the near future. It is inevitable that we are going to witness a substantial churn in subscribers of HBO's pay TV and OTT subscribers.
A new study from Mintel, a global market intelligence agency, confirms the Google trends chart saying that a big chunk of subs to HBO Now say they would cancel the service "if a specific program ended." 20 percent agreed with that statement. By contrast, just 10 percent of subscribers to all OTT services agreed with that statement.
Churn is still more typical for traditional TV
New stats show the dark reality of pay TV. The top 10 service providers in the United States collectively lost over one-and-a-quarter million TV subscribers in the first quarter of 2019, as reported by the Informitv Multiscreen Index.
Pay TVs problem with sports content
Perhaps one of the biggest roadblocks for pay TV comes in the form of sporting rights costs. Sporting costs have skyrocketed in recent times - and as sporting events and programming forms a sizable chunk of the typical pay TV offering - a great deal of content is being snapped up by various online-based players.
Sports channel license fees now eat into 22% of the average cable bill and are projected to reach 30% by 2022. It's a model that seems unsustainable.
Moving forward towards value and market wins
Let's start with an interesting chart coming from TV industry professionals on where they expect the TV and video industry to develop towards.
OTT services offer the choice of flexibility, mobility, tech-driven functionality and a wealth of content, all for an affordable monthly or annual price.
The consensus is that a variety of subscription-based services and combinations/bundles will be driving the industry forward. The options for broadcasters are plenty.
Researchers from GSMA Intelligence list a few strategic directions that pay TV and/or operators can choose to address the market situation:
The current straightforward direction: Consolidate the customer base and converge TV, broadband, voice and wireless services to manage churn through compelling bundled offers with OTT subscriptions.
Partner with OTT players: By partnering with OTT services and bundling their subscription fee with other service plans or offerings, the operators can provide additional convenience which will help in reducing subscriber churn. Ex: Netflix and Deutsche Telekom partnership in Germany.
Acquisition to reduce time to market: Buying up-and-rising or established players in the market can be a good strategy to derive direct and indirect benefits for scaling the services while still reducing time to market. Ex: our client, Sinclair Broadcast Group and Tennis Channel.
Partner with local content producers:

This allows brands to tap into the deepest layers of demography by offering local or regional content.

Launch its own OTT app and content: For operators with strong investment plans, this move can help to command a strong control over the long-term content monetisation strategy. SportsMax OTT channel in the Carribean.
Play a role of content aggregator: Operators are well-placed to aggregate content/services by providing one-stop access and bundled billing.
All in all, OTT has disrupted the pay TV model, with the main driver being choice coupled with value. However, this segment is still strong and leading today's mainstream video distribution worldwide.
All these strategies support the fact that subscriber retention (and tackling churn) is the key area of improvement lined up for OTT, pay TV or telco providers.
---
Learn more about you can stop OTT churn: