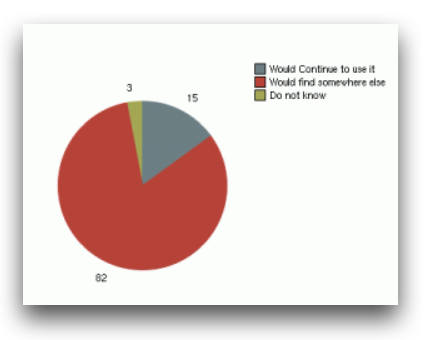 Everyone knows that online publishers are trying to find ways to monetize their content. Consumers seem ready to pay. Survey after survey shows they are gradually moving towards an acceptance of monetization. For example, in the latest Pew Research Center's Internet & American Life Project survey conducted in December 2010, 65 % of Internet users have already paid for online content.
But are publishers ready for online content consumers? They are a notoriously promiscuous and fickle lot. According to a report from Outsell, 44% of visitors to Google News just scan headlines and never click on the articles. Another PEJ-PRC survey published in January 2010 showed that only 35% of news consumers have a favorite site. Most consult a handful of sites for their news. They also graze other platforms like radio, TV, social media and print. This is a challenge for existing subscription and ad-based business models. Lack of loyalty makes it hard for publishers to establish a brand, and without a strong brand it's hard to turn customers into subscribers or get advertisers to pay for ads.
Value to the rescue
There is a silver lining, however. Two strong online trends might hold the answer. The first is that people know that you can't get something for nothing, as the saying goes. A Nielsen survey published in February 2010 found that nearly 4 in 10 respondents thought that quality of online content would suffer if companies couldn't charge for it.
In the past, people paid for the convenience value of having news assembled in one place (a newspaper) and benefited from the qualitative value, which was subsidized by advertising. Now that content aggregation and delivery is frictionless, the focus will be on getting people to pay for the qualitative value.
In the Nielsen survey mentioned earlier, consumers showed a willingness to pay for content with a higher perceived value. Music, TV, movies and games led the list, following by magazines and newspapers. But qualitative value isn't restricted to production value. Others ways include creating emotional connection and exclusiveness. These two factors are the paradox behind why people download free recipes from the web and still shell out money for a cookbook by their favorite chef. Content that is relevant to the consumer's individual centers of interest and available on a pay-as-you-go basis is a promising route forward.
The second trend is social media. According to PEJ-PRC: "an earlier report found that news is a social currency for many people and that they rely on their friends and colleagues at times to alert them about news or help them discuss the meaning of particular news events." People appreciate, it seems, the social value of news.
It seems obvious, therefore, that publishers need to add value to their online content. They need to enrich the qualitative and social value of the content in the same way that Amazon adds value to e-commerce transactions or that Apple iTunes adds value to buying and experiencing media. The importance of the user experience should be maximized, with value-added components like video, demos, and extra features added to the core content. It is worth looking to what publications like Wired and Popular Science are doing with the iPad and what the Guardian are doing online.
Freedom to choose
But adding value to content won't go anywhere without choice. Consumers want the freedom to buy individual pieces of content with a simple system of micropayments, even for such content type, we could say "nanopayments" like a few cents. Just look at the way CD sales have plummeted as consumers have shifted to buying individual tracks, or the way people rent movies from Netflix instead of buying and owning DVDs. They only want to pay for what they are going to consume, for what matters to them – based on their centers of interest and the recommendations of people they trust.
Time for differentiated pricing
So where does this leave us? Well, a Forrester survey published in late 2009 concluded that publishers have two options: continue to offer a free, ad-supported product or offer consumers "a choice of multichannel subscriptions, single-channel subscriptions, and micropayments for premium product access."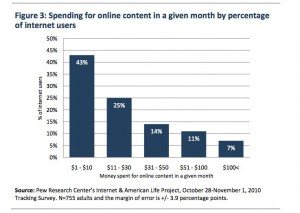 Cleeng gives content publishers the ability to efficiently collect micro-payments for individual pieces of content at a price that consumers consider reasonable (See chart). It allows them to give away some content for "free" (supported by ad revenues) and charge a small fee for content with a higher perceived value for the consumer.
The beauty of Cleeng is that it frees up publishers to focus on determining the "value" of their content. Maybe it's the appeal of a star journalist. Or the timeliness of breaking news. Or the pertinence of intelligent analysis. Or the recommendation of a friend
Whatever the value of your content, Cleeng lets you monetize it.