Here you'll find the latest product news.
First, thanks for all the feedback you send in the past weeks. It truly helps us improve the solution, and get closest to your needs.
The good news is that we didn't only listen, we've too been working hard to develop a lot of improvements to our solution.
Here are the 5 main product improvements: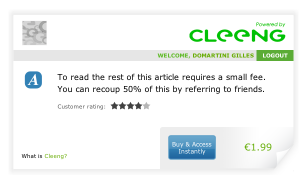 1- Now sell up to 19.99$: you thought the price limit at 0.99€/$ was too constraining. Well, i'm happy to tell you that now you can set the price between 0.14cts and 19.99€/$. So now, Cleeng covers the full sprectrum of online content requirements.
2- Earn up to 90%: the good news, as we increase price limit, we can better amortize some of our costs, and this translates into more margin for you! With immediate effect, you now receive 80% of generated revenues, and can go up to 90% as volume grows. We take care of everything for such a small fee:
Payment processing fees (account for 6% to 10% alone)
Content monetization software licenses
Social commissions management
Customer service and support (publisher and consumer)
and still, no setup fees! So why wait any longer to test on your site.
3- Better pay-out process: our apologies, this wasn't well represented on the site. Now you can enter all your pay-out details in the "Settings" section, and have a view of the expected payout for next month.
4- Free credits reduced: some of you considered 5 was too many, and you preferred to manage this yourself. So we dropped the Free credits with every new account from 5 to 2 (and remember that in practice, the first free article in often used to create the user account)
And one last thing: for those of you who know or work with large publishers looking for a co-branded solution, we've developed an enterprise co-branded option. Contact our sales teams for details.
The site is now translated in French, and German is coming in the next few weeks.
The plugin is now fully compatible with WordPress 3.1. We are also refreshing the Drupal plugin so all these new functionalities will be available to Drupal users within the next few weeks
We learned a lot too from the New York Times paywall fiasco (see our analysis), and we really think we now have the most advanced solution in the market. We also have a healthy pipeline of great improvements coming as well, and some big news to share in the next months. So stay tuned on Facebook/cleeng for more details. You can also share and exchange with other publishers how you best use Cleeng and boost your
And please keep sending your feedback, so we can finally crack together how to make more money with quality content !