The vast majority of publishers suffer from the slow but steady erosion of the circulation of print media and this trend is confirmed by a recent study by The Pew Research Center that noted an increase of over 17% n the online news audience at the expense of other media.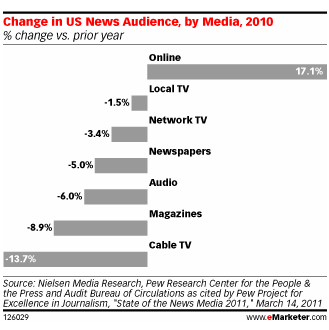 The impact on publisher revenues is huge and push them to seek new revenues stream to offset the shortfall. The latest example is the announcement by the NYT of a metered paywall.The crux of the problem is not to charge users for content, many studies attest and confirm that people are willing to pay for quality content (see chart below, up to 36% of people in Spain are ready to pay for online news, and 19% in the US - Source eMarketer) but the price point. It seems that the gap between what that people are willing to pay and what the publishers charge is now too large to massively convert users into subscribers.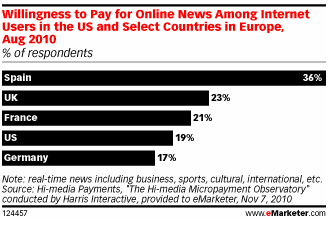 So the publishers situation is getting worse: in one hand the revenues generated by the print newspaper eroded, but are not offset by online advertising revenues, despite the growth of the internet, as the online advertising price tag is much lower. And on the other hand publishers limit their own online advertising potential by restricting access to their page with a paywall ...
So are we in a dead end? Or can we still reconcile consumers, publishers and advertisers interests?
The solution does exist:
First let consumers freely browse the publisher website (thus retaining publishers advertising revenues) and at the same time enable publishers to protect value -add content that consumers could buy easily in one-click (generating additional revenues for publishers). If 19% of US consumer are ready to pay as seen above, why not exploit better the opportunity?
and is already available: Cleeng
Example with a New York Times Restaurant review (click image)
Imagine the pleasure for a user to freely surf the NYT dining page, and access instantly the preparation tips from Chef Sean Brock to cook her saturday diner and impress friends?
Sounds like a good plan? cut the grass under your competitor's feet - Generate incremental revenues with Cleeng without alienating your advertising revenues or penalize your readers.